Beijing is really reeling in the love this week with yet another smog-alert. Even the apocalypse has more picturesque charm than this. My sole advice – start a ragtag team of steampunk cannibals and get your freak on to one of these live gigs. Plenty of human fodder to be had there. Trust. 
---
Friday October 21st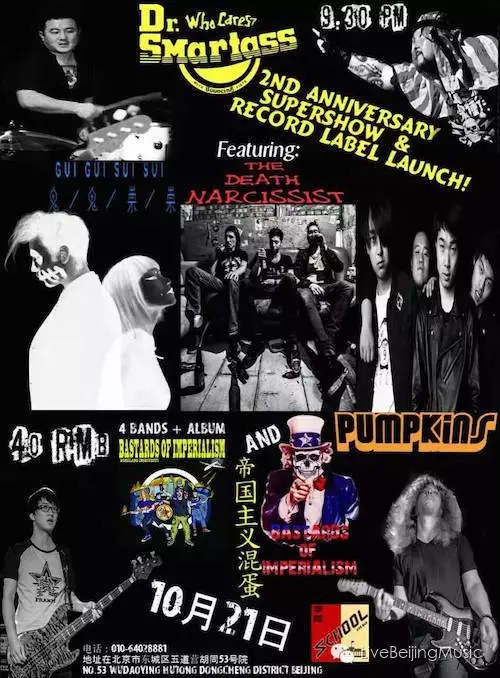 The Pumpkins, Bastards of Imperialism, GuiGuiSuiSui, Death Narcissist at School
Local label and booker Dr. Smartass (aka Shanzhai Laowai, aka Darryl, aka signer of the Bastards of Imperialism) celebrates two years of bridging the various rock scenes and Beijing with a killer showcase which'll also double as the debut release from the policatcally charged punk out Bastards of Imperialism. Support from some Beijing regular ass kickers as well as Xinxiang punk band Pumpkins, true torchbearers. 40 RMB (includes album)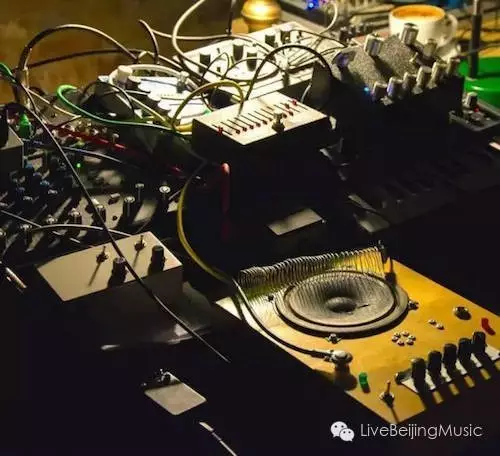 MIJI Concert Series #40 at Meridian Space
The MIJI Concert Series is back, for another experimental music performance taking place in a long rectangular room. This time, Subjam brings us 3 experimental sets: a duo by Vietnamese/Austrian duo Parallel Asteroid; another duo by Ake + Zhao Cong; and finally a trio featuring Parallel Asteroid and Zhu Wenbo. 50 RMB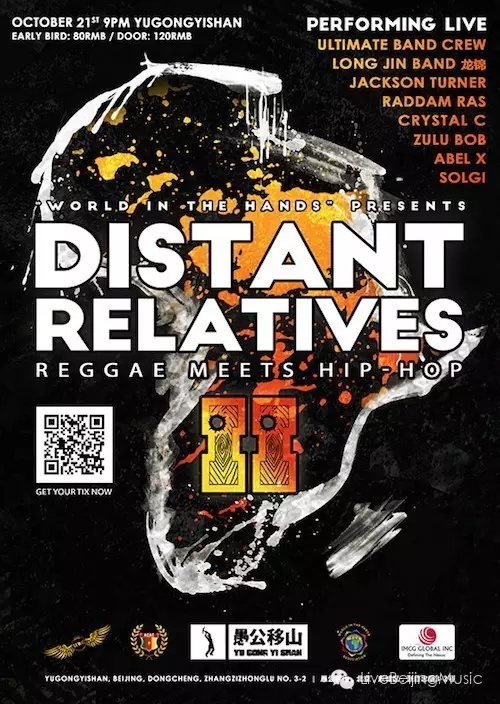 Jackson Tunrer, Longjing, UBC, Crystal C, MC Webber, Zulu Bob, Slogi, Abel X at Yugong Yishan
Reggae and hip hop join forces as 'Distant Relatives' hopes to bring together different cultures and musical styles for an evening of god vibing including sets from rappers Jackson Turner (New-York) and Crystal C (Chicago), Longjin, UBC, and more. 120 RMB
Jony J, Easy Boyz Gang, Dragon Well at DDC
Nanjing rapper Jony J looks to put a mirror to the image of material goods, wealth and sex as the goal in life with his latest album. The rising hip hop star will be joined by Beijing's own rap collective Easy Boyz Gang and more. 100 RMB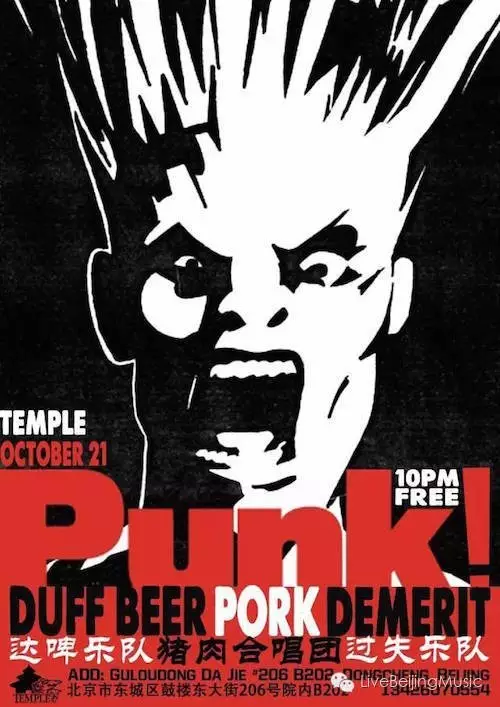 Pork, Demerit, Duff Beer at Temple
One of the scene's most passionate and dedicated punk outfits Demerit join grunge veterans Pork perform tonight at Temple alongside up and coming punk scrappers Duff Beer. FREE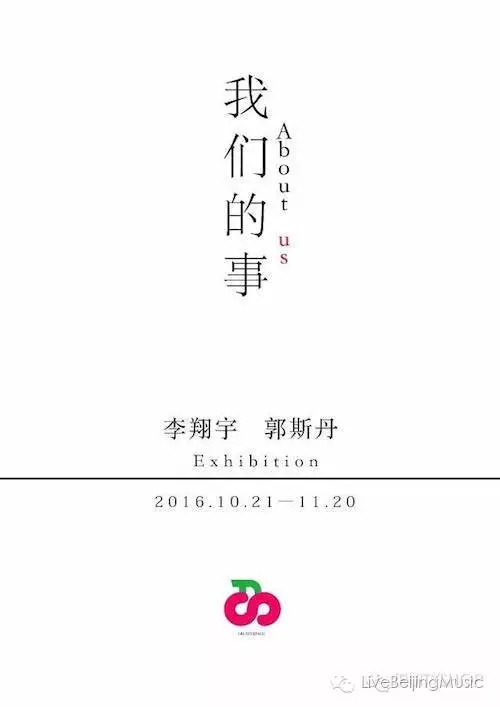 The Dice! at fRUITYSPACE
Spacey noise rock duo continue their residency at fRUITYSPACE, this time performing for the latest painting exhibition from Li Xiangyu and Guo Siban. FREE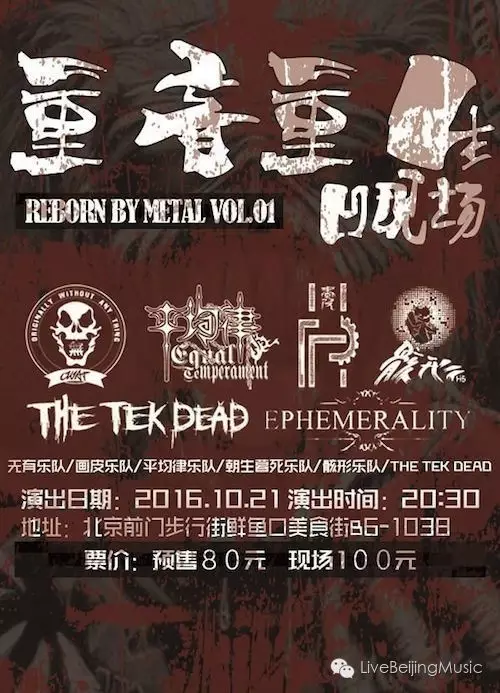 Ephemerality, The Tek Dead, Painted Skin, Equal Temperament, N&Y, Haixing at Ao Club
Grrrrrrrrr!! That's the sound the kids will be making when you venture down to the Qianmen venue for some metal and hard rocking with such mainstays as Ephemerality, Painted Skin and more. 100 RMB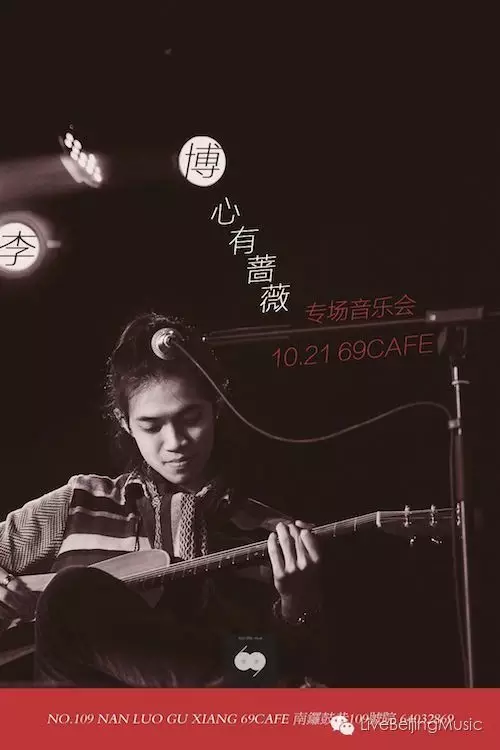 Li Bo at 69 Café
Lead singer of Rosewood Bullets, the rootsy hard rock band that infuses 80s hard rock with a more tender folk twang, goes solo at the couch-filled venue. 60 RMB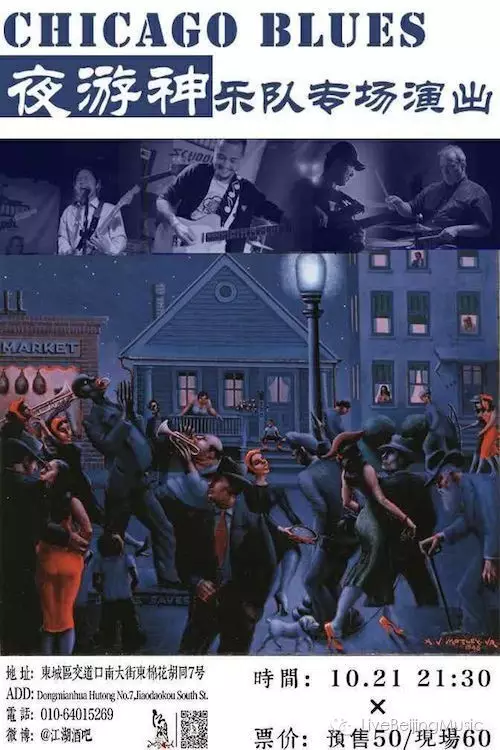 The Nightcrawlers at Jianghu Bar
Feel the Chicago blues as The Nightcrawlers get down at the hutong hotspot to ease away those weekday blues. 60 RMB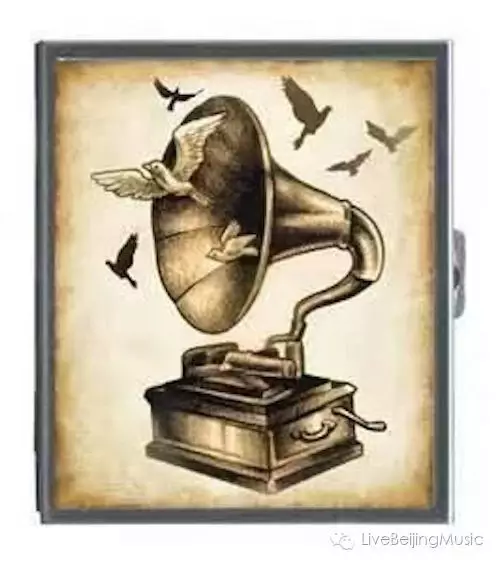 The Felling Tree, Scott Walker at Mogu Space
Upbeat folk tunes 'wrapped in delta blues, Americana, and rockabilly' looks to get you moving in Xizhimen. 60 RMB
Disaster Chat, The Hunters at Hot Cat Club
Indie rock, and digestible grooves to lay into at the Hot Cat Club. FREE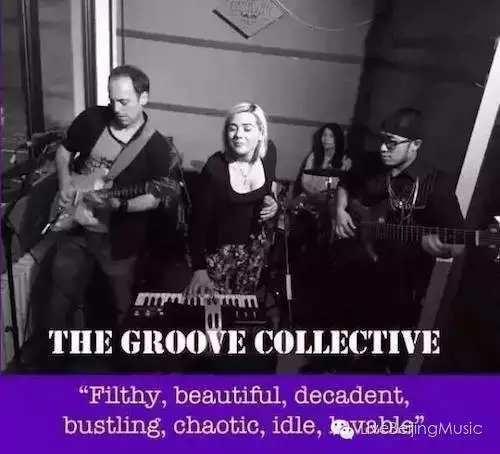 The Groove Collective at Modernista
Multi-national funk rock outfit The Groove Collective present their 'melting pot of disparate rhythms and fun-loving uproar' on Baochao Hutong. FREE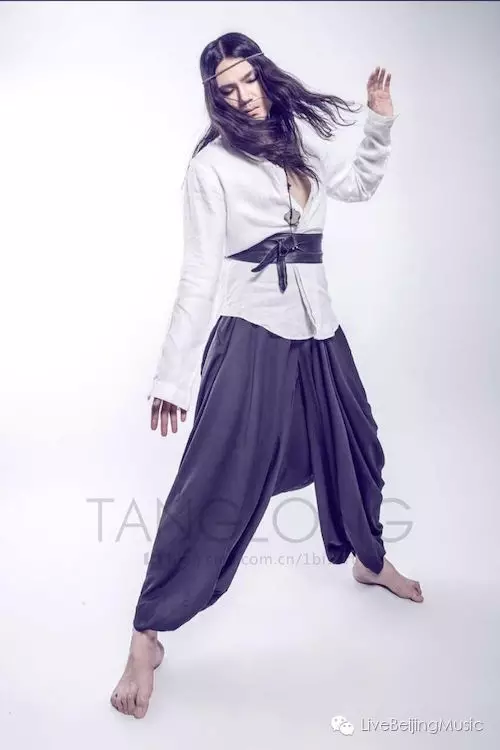 Wang Wu at Snail Club
Northeastern Chinese singer-songwriters, Wang Wu, whose loose hair and vibrant voice made him one of the finalists on one of the country's top rated American Idol clones performs. 50 RMB
---
Saturday October 22nd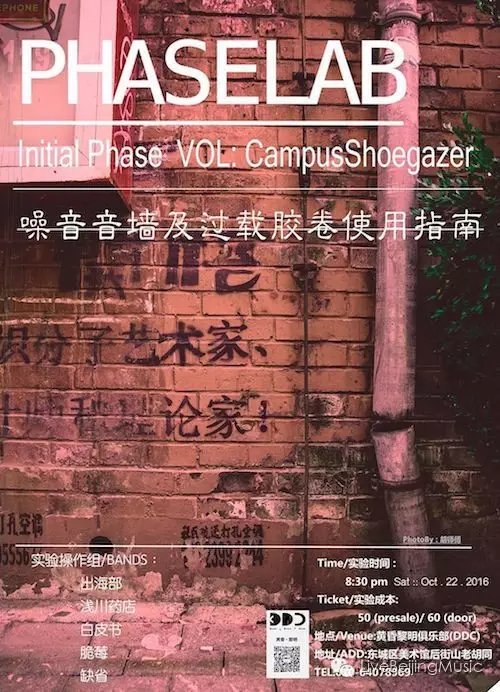 Wonder Sea, The White Papers, Brickleberry, Asakawa Pharmacy, Default at DDC
DDC host the next generation of rockers – a crop of bands that are looking to break out – from the post emo rock stylings of Wonder Sea, to the new wave post punk of The White Papers, these are bands who are eager to be heard. 50 RMB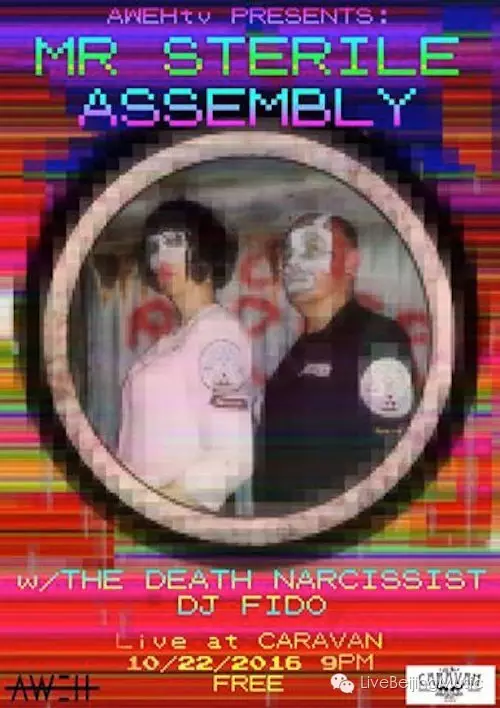 Mr. Sterile Assembly, The Death Narcissists, DJ Fido at Caravan
New Zealand art punk duo Mr. Sterile Assembly swing by Moroccan hotspot Caravan for some devious fun alongside the ever busy Death Narcissits and DJ Fido. FREE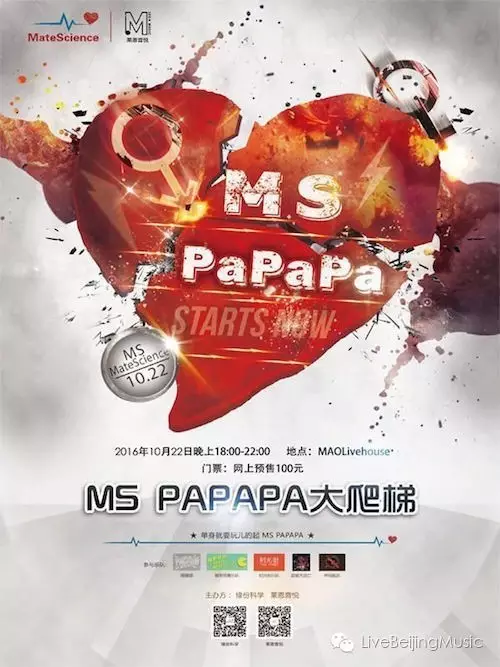 Candy Monster, Nerve Resistance, The Sweet Escape, Time Street, Next Door Band at Mao Livehouse
Industrial metal, doo wop pop, 8-bit emo rock, and some much more – it's a varied lineup tonight at Gulou's Mao Livehouse as Nerve Resistance, Candy Monster, Time Street, and more take the stage. 120 RMB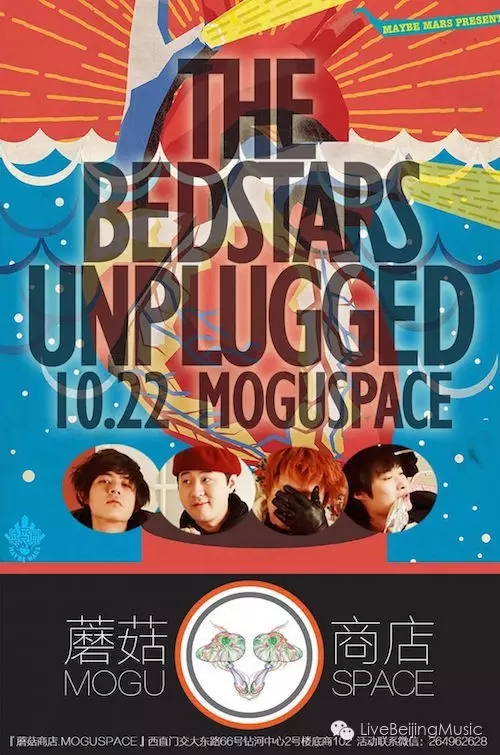 Bedstars at Mogu Space
The rancidly devious, 70s era punk favorites bring their inebriated riotous sounds to Mogu Space for a special unplugged performance. 60 RMB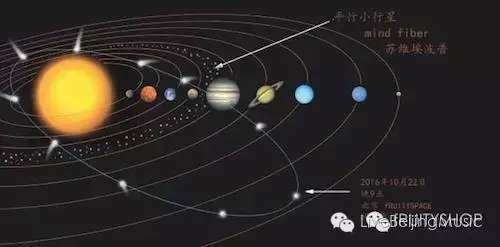 Parallel Asteroid (Austria/Vietnam), Mind Fiber, Soviet Pop at fRUITYSPACE
Parallel Asteroid, consisting of Vietnamese pianist/synthesizer player Lan Cao and Austrian saxophonist (among other electronic gizmos) bring their abstract experimental sound to fRUITYSPACE alongside experimental noise acts Mind Fiber (made up of Li Jianhing and Vavabond) and Soviet Pop. 50 RMB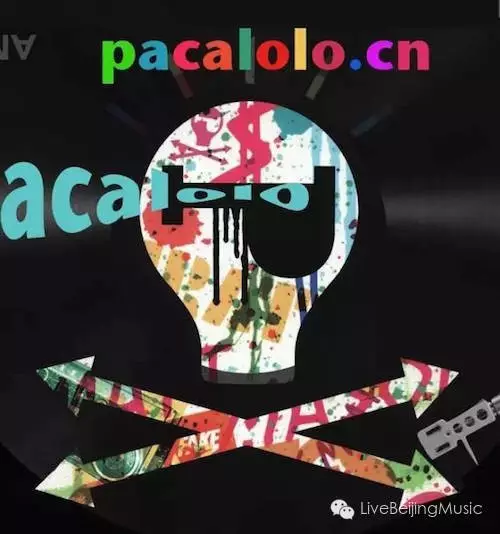 Image Above All, Jump The Fence, Pacalolo at Temple
Get your indie on at Temple with funk rock outfit Image Above All, indie foot tappers Jump The Fence, and electro rock veterans Pacalolo. FREE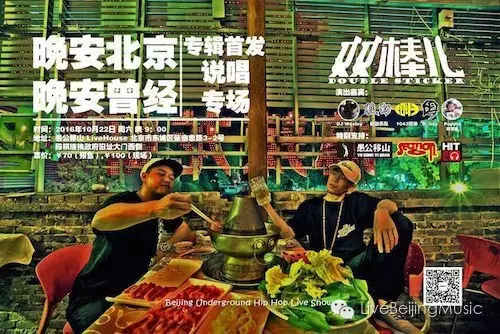 ShuangBangEr w/ DJ Wesley, 1043, B-Boy, Jaio Jin at Yugong Yishan
Hip hop continues to strive in Beijing – Double Sticker, formed by Jia Lei and Ou Zi, bring their underground hip hop success story to Yugong Yishan with a slew of hip hop affiliates including 1043 rap team, Jiao Jin, and more. 100 RMB
Bian Yuan at School
Ex frontman of legendary punk rock band Joyside, Bian Yuan continues evolving his solo career, with influences from Leonard Cohen and other singer songwriters, the artist returns to Beijing to conclude his nationwide tour alongside a host of friends and bandmates. 80 RMB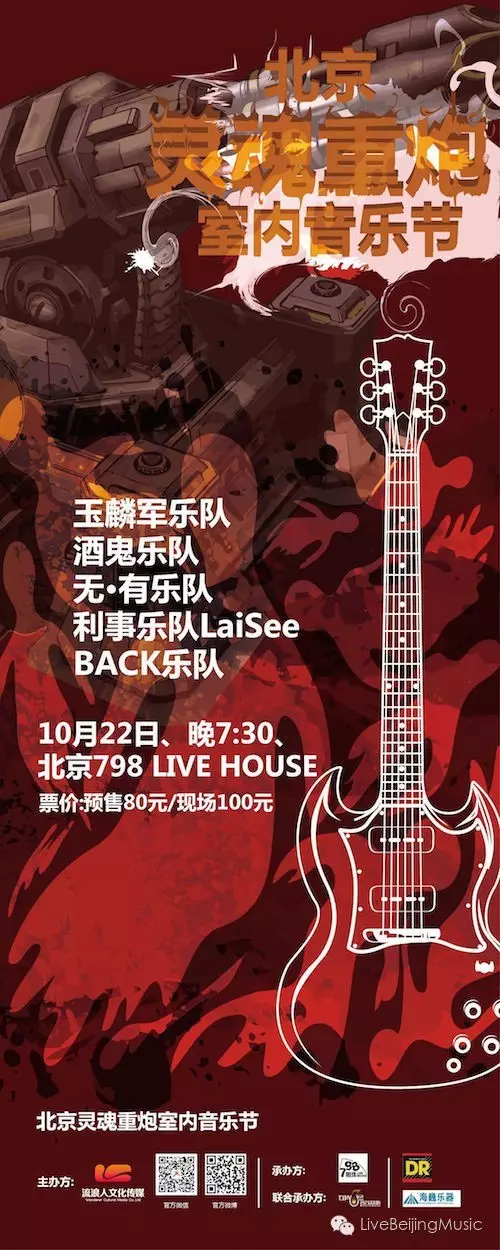 A.J.K, Drunkard, Laisee, Back, N&Y at 798 Livehouse
798's old factory venue appropriately hosts some of the scene's hardest rockers including goth metal veterans Army Of Jade Kirin (A.J.K), hardcore aerobatics Laisee, and grunge renegades Drunkard. 100 RMB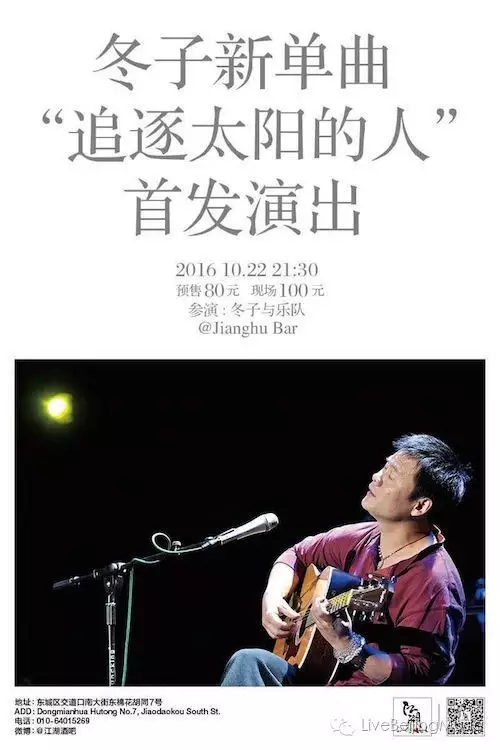 Dongzi at Jianghu Bar
The wise weary-voiced folk veteran Dongzi brings his intimate stories and lyrics to Jianghu Bar. 100 RMB
Time Partner, Day Day Cherry, Windsor Forest at Blessing Livehouse
Britpop, indie pop – however you want to chalk it up – there's gonna be some swooning and good ol fashion popping going on at the Shuangjing joint. 80 RMB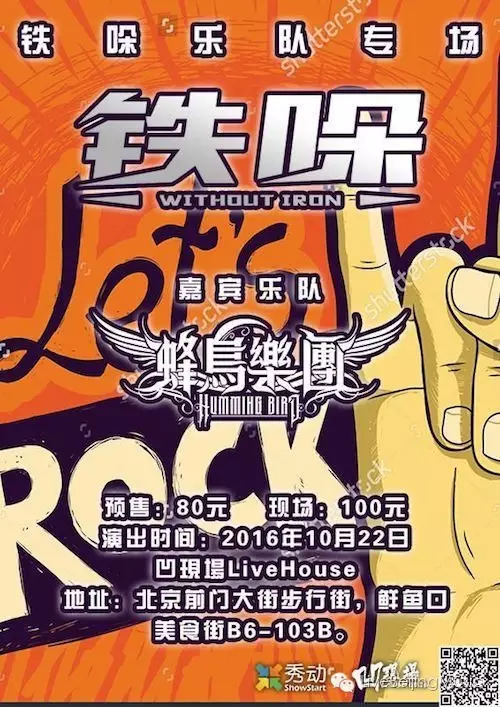 Without Iron, Hummingbird at Ao Club
My doctors used to tell me I was lacking in the iron department – have to wonder if that's the deal with this pop heavy hard rock outfit who along with Hummingbird hope to bring their mainstream appeal to the Qianmen outpost. 100 RMB
Jin Song at Modernsky Lab
Lijiang folk singer-songwriter Jin Song swings through Modernsky Lab as a part of his national tour to promote his new EP, Meet You. 100 RMB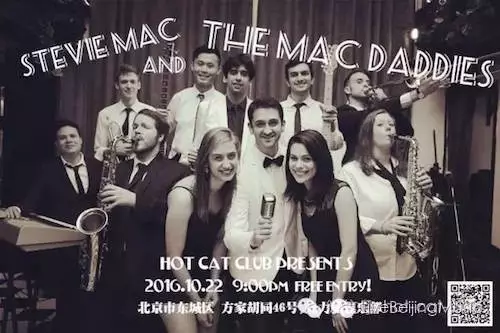 Stevie Mac & the Mac Daddies at Hot Cat Club
Inspired by all things classic, pop, and big band, Stevie Mac & The Mac Daddies bring 'a vintage approach to contemporary music'. Enjoy classic reimaginings from the ever-expanding trope at the Fangjia Hutong venue. FREE
---
Sunday October 23rd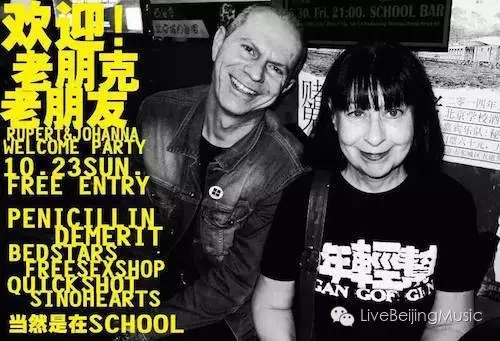 Demerit, Bedstars, Penecillin, The Sino Hearts, Free Sex Shop, Quick Shot at School
School Bar welcomes back two friends of the Beijing rock n roll – Rupert and Johanna from Vienna – with a stacked showcase of School's closest affiliates including the always dependable Bedstars, Demerit, Penecillin, Free Sex Shot, as well as Quick Shot, and The Sino Hearts. Bring your weekend mentality cause it's gonna be a long evening. FREE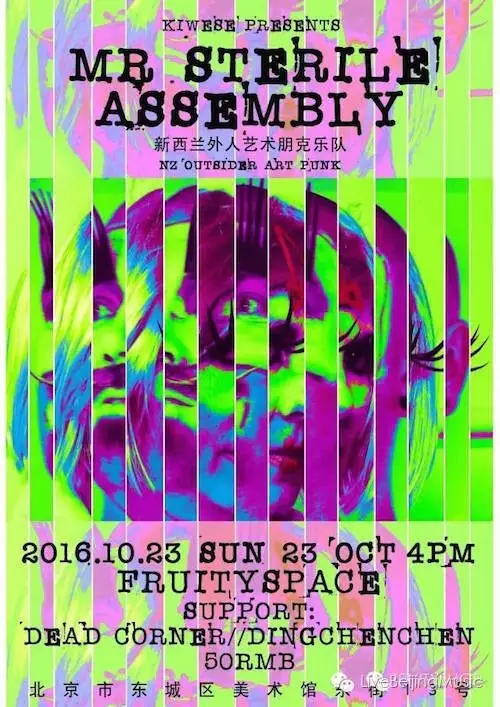 Mr. Sterile Assembly (New Zealand), Dead Corner, Ding Chenchen at fRUITYSPACE
New Zealand art punk duo continue their reign of destruction across China with a explosive drum/bass free for all at fRUITYSPACE alongside Beijing party stoppers Dead Corner and Ding Chenchen. 4pm start. 50 RMB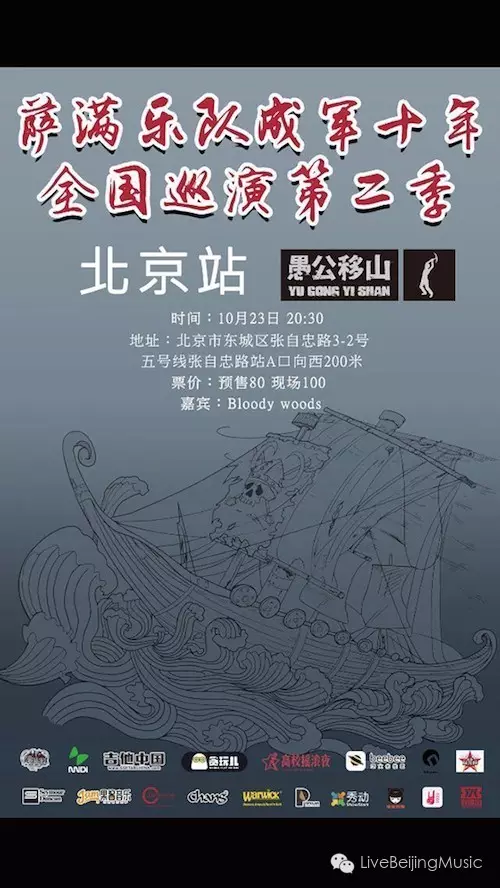 The Samans, Bloody Woods at Yugong Yishan
Changchun folk metal outfit The Samans celebrate ten years of epic composoitons – a visceral combination of Celtic, Viking, and traditional Chinese metal that has ignited crowds for years. 100 RMB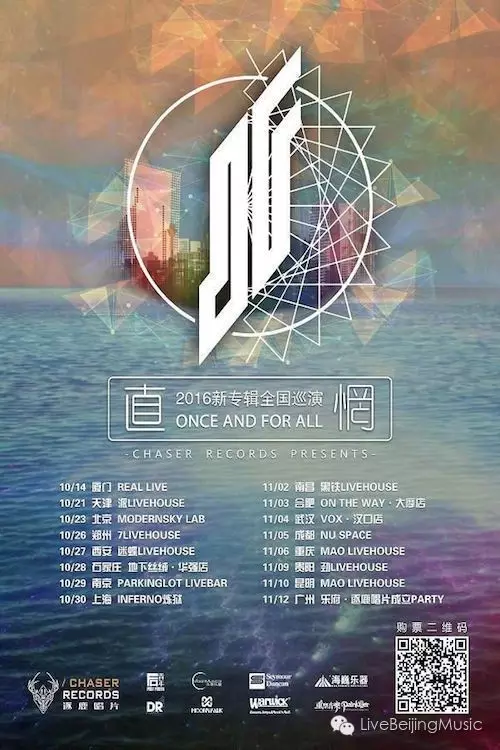 Once And For All at Modernsky Lab
Avant-garde metal outfit Once And For All, one of China's leader Djent pinoeers (a style of heavy metal music that was developed as a spinoff of traditional progressive metal) strut their latest as part of their China wide tour.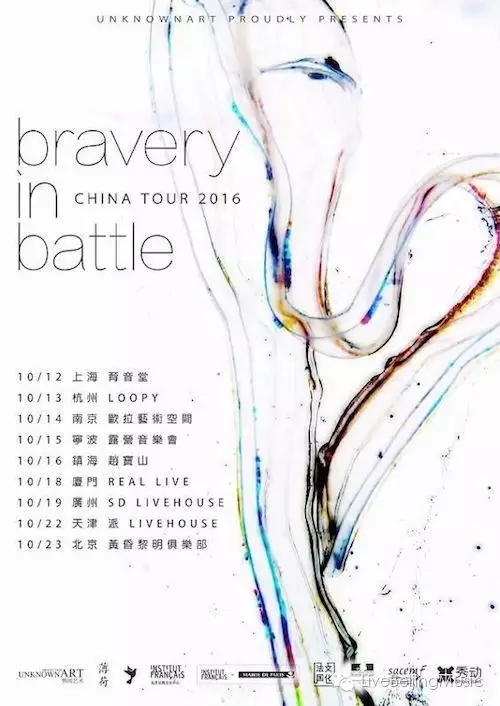 Bravery in Battle (France) at DDC
Acoustic post-rock outfit from Paris, France bring their melding of styles to DDC as they utilize classical instruments to give the post rock genre a new twist. 80 RMB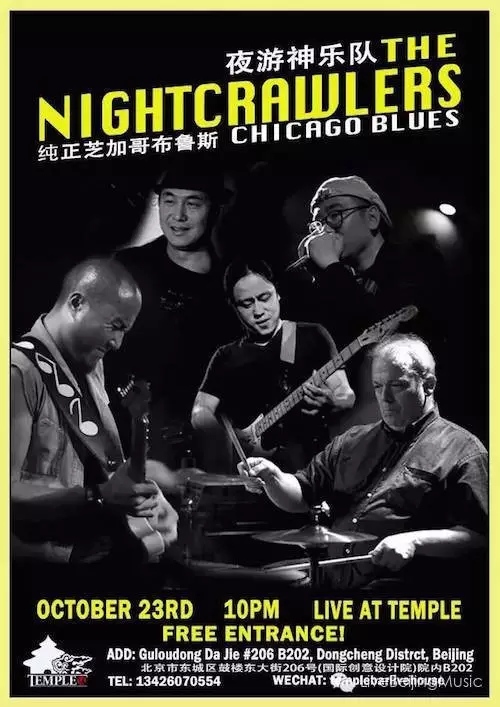 The Nightcrawlers at Temple
Chicago blues outfit The Nightcrawlers get their clammy mitts all over Temple Bar for some Sunday fun. FREE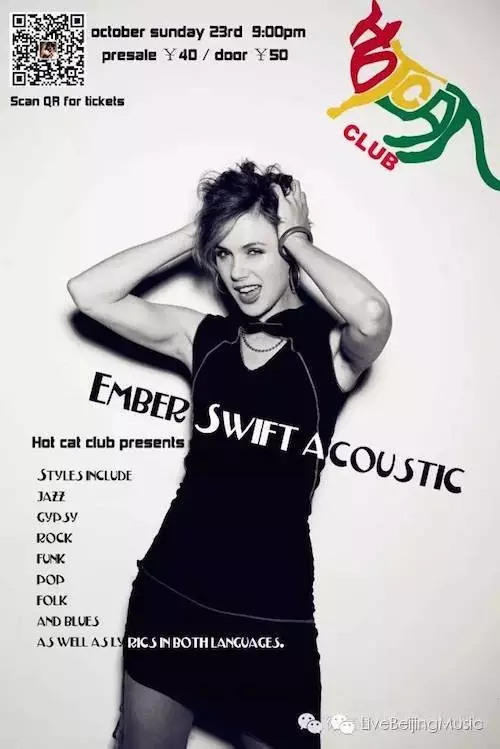 Ember Swift at Hot Cat Club
Ember Swift brings her swag and stylish indie rock to DDC as the longstanding Beijing-based artist presents her latest musings. FREE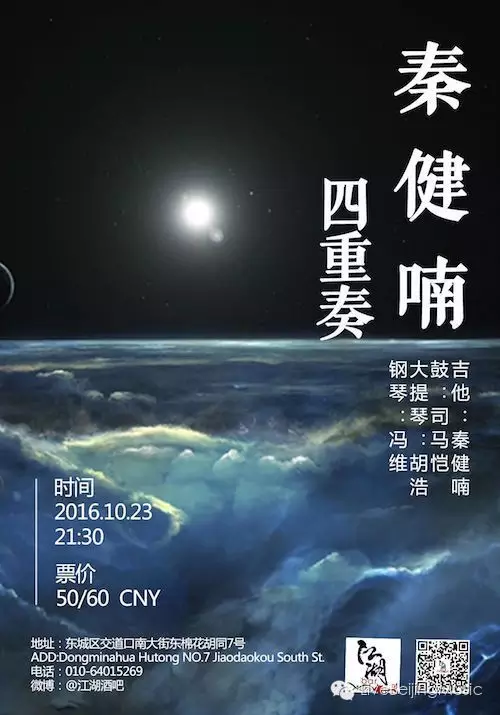 Qin Jiannan, Scott Silverman at Jianghu Bar
Jazz maestro performs with his skilled trope alongside fellow guitar picker Scott Silverman. 60 RMB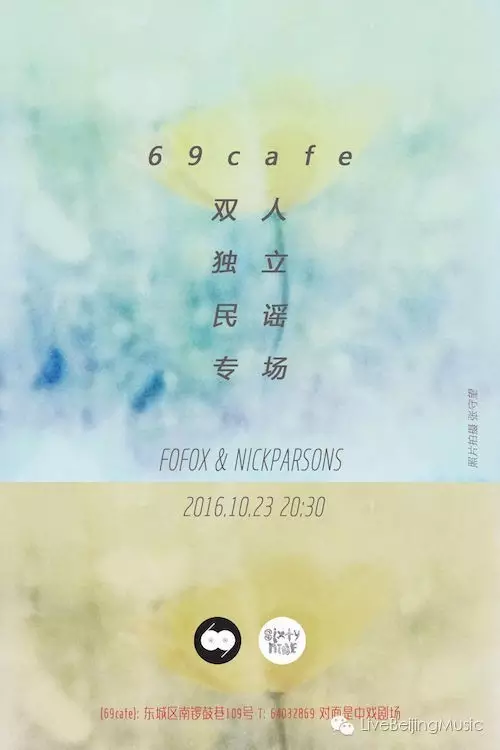 Nick Parsons, Fofox at 69 Café
A piano-led folk night featuring the talents of regular scene hitters Nick Parsons and Fofox whose Neil Young, Nick Drake, and Pink Floyd renditions and originals will ease you into the new week. 60 RMB